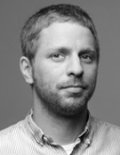 Jerry Koza & Anna Kozova
Architect and designer Jerry Koza (1976), who studied in the Faculty of Architecture of the Czech Technical University and the Academy of Arts, Architecture and Design in Prague, attracted the attention of the professionals for the first time with his multifunction chair Somersault, which was included in the publication Czech 100 Design Icons. During a study visit to Eva Jiřičná he made the prototype of Alfa loudspeakers and in order to produce them he co-founded the company SYMBIO Design. In 2003 he won a Ladislav Sutnar Prize for a significant enrichment of the Czech architectural and designer scene. Today he works in the company Atelier SAD, which he co-founded. In the atelier he specialises in designing buildings and interiors (the latter include the floating house Port X, the interior of the restaurant Oblaca, and a one-room hotel in Žižkov Tower in Prague). In parallel, he has been making, in collaboration with his wife, the designer Anna Kozová (1982), toys and objects for children inspired by their sons.
Praguekabinet is happy to be able to offer you a signed thirteen pieces limited edition of their famous Torpedoes, fantastic racing cars in the shape of sleek scooters which they created for our gallery and supplemented with practical covers. They will send boys and girls into ruptures and adults will be green with envy.