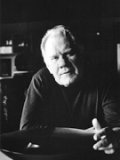 Frantisek Vizner
František Vízner (1936–2011). Along with few other creators he is a leading Czech glass artist. During the 1960s he played a crucial role in the area of pressed glass and the designs of his vases and bowls from that time are of immediate interest and therefore very much sought after by collectors. The same applies to his creations in hand-blown glass from the former Škrdlovice glass factory, where he was active for many years as one of the top artists. His best creations are in his studio-produced glass, on which he has worked since the beginning of the 70s and which have earned him worldwide fame. As a sculptor he created remarkable sculptures in perfect shapes with the help of a hand grinder and pieces of glass. Even though his creations take the basic shapes of a vase or bowl, which means to him t the representation of ideal geometry, his work results in abstract, minimalist creations of timeless value. His unique works of art have found collectors literally all around the world and enjoy pride of place in the collections of major museums, such as Museum of Decorative Arts in the Louvre, Metropolitan Museum in New York, and Victoria & Albert Museum in London).
For the sake of interest, the artist has also signed his name to a number of architectural works, such as the facings in Jinonice metro station and the chandelier in the Congress Palace in Prague. His last exhibition, František Vízner – Ateliér, staged by curator Tereza Bruthansová in the Prague gallery Nová síň in 2011, under the auspices of the Prague City Council and praguekabinet, presented on the occasion of the artist's 75th anniversary seventy-five of his unique pieces of sculpture dating from the 1960s to the present.
František Vízner's exhibition A view into the archive was held in praguekabinet from 19. 5. – 15. 7. 2016.